Study Notes #8
Date: July 5, 2022
Business Metrics
KPI (Key Performance Indicator) – how they measure their success on each of their key business objectives.
Each business has its own set of KPIs.
Which KPI to use?
The decision regarding which KPI a business analyst should use depends on several factors, including which industry or domain they are working in, which business function they are focusing on, and the type of data they have available to them.
https://kpidashboards.com/kpi/
Asking Data Questions
Identify what needs to change
Communicate this change to stakeholders in clear manageable chunks of data
How to ask questions
Identify the business goal and objectives.
Narrow down the type of data needed to answer questions.
Identify the KPIs that will be useful to show whether you are making progress on your business goal.
Conduct the data analysis using the KPIs and use visualizations as part of the analysis.
Provide recommendations and findings based on the completed data analysis.
Create succinct and visual presentations for the stakeholders.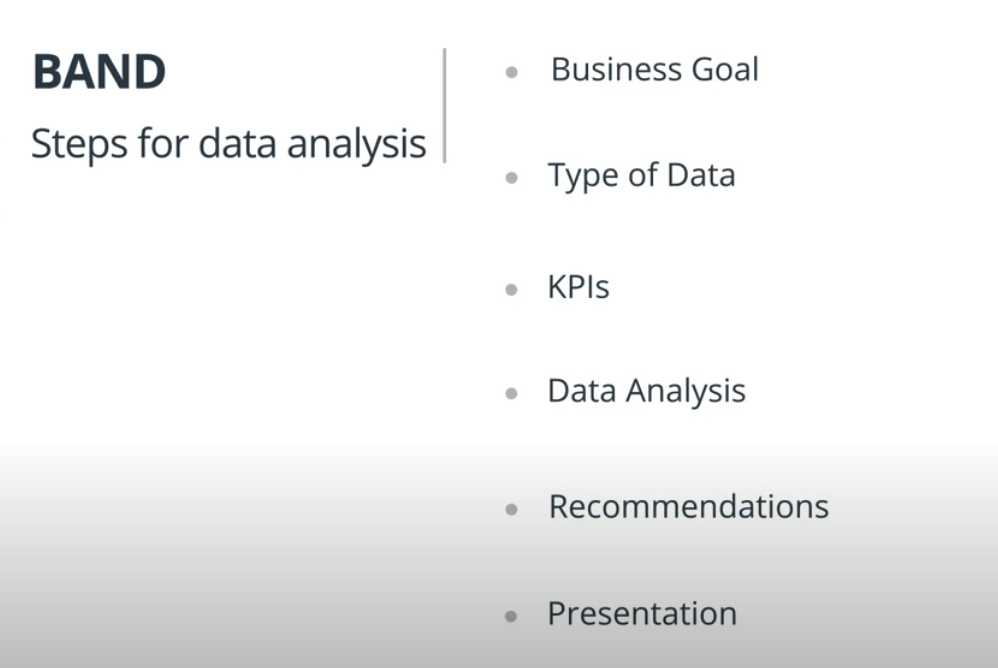 Business Process Flow
A business has two primary goals:
Increase revenues
Reduce costs
Example:
| | |
| --- | --- |
| Reduce Costs | Increase Revenue |
| Website & Engineering | New Customers |
| Staff Salaries | Marketing |
| Supplies & Payment System | |
| Legal Contracts | |
| Rent | |
WeCart Business Goals
---